STATE REPORT CARDS
about 1 year ago
ALABAMA STATE REPORT CARD

RELEASED FOR CHAMBERS COUNTY SCHOOLS



CHAMBERS COUNTY, AL – The Alabama Department of Education has released the Alabama State Report Card, containing a letter grade for schools and school systems across the state.
The Report Card reflects several different factors including academic achievement, academic growth, and chronic absenteeism, as well as graduation rates and college and career readiness for high schools.
The Chambers County School District as a whole received a letter grade of C, and a numerical rating of 76.
"While we are certainly not ecstatic over receiving a 'C', we are pleased that our results were in line with the state average," said Chambers County School Superintendent Dr Kelli Hodge. "In a discussion with principals, I reminded them that the Report Card grade was based on the performance of a single test. We don't give report card grades to children based on just one assignment. While 'C' is average, and most people are supposed to score average, we are not satisfied with staying average. We will use this information to help us improve, but we will not discount all of the areas in which our schools are already showing improvement."
The State of Alabama introduced the State Report Card this year in compliance with the federal Every Student Succeeds Act passed by Congress in 2015, which requires states to report on student academic achievement. The goal of the Report Card is to provide a starting point and to offer easy-to-understand and concise information showing how a school is doing.
However, most of the data used for the State Report Card score was taken from the ACT Aspire Summative Assessment that the State of Alabama used to measure the educational standing of students in grades 3 through 8 and 10 from 2012 until 2017. In June 2017, the State Board of Education voted unanimously to terminate the use of ACT Aspire as the state summative assessment, yet included its data as a major component of the Report Card formula.
Therefore, the Chambers County Board of Education has joined a growing number of school boards across the state that have adopted a resolution for a Vote of No Confidence for the report card because of the criteria established for measuring assessments, including "chronic absenteeism" that does not recognize excused absences.
"We are not opposed to a report card that uses multiple measures in an equitable way to report successes or lack thereof in achievement, growth, college and career readiness, graduation rates and student success," said Hodge. "We are opposed to a report card based on one test that has been discontinued for a number of concerns, including limited reliability and not being aligned with state standards."
"We welcome a report card that recognizes the millions of dollars in scholarship money our students receive, one which recognizes students who graduate with credentials, college acceptance or military commitments," Hodge added. "We want a report card that does not unfairly categorize students who work hard to keep up or catch up after having cancer, losing a home to fire, attend school-sponsored events or just have the bad luck of being sick several times in one year."
According to the data used to measure academic growth and achievement during the 2016-2017 school year, the State Report Card indicated the following results for individual schools in the Chambers County District:
• Bob Harding Shawmut Elementary School – Score: 74 (C)
• Fairfax Elementary School – Score: 70 (C)
• Five Points School – Score: 75 (C)
• Huguley Elementary School – Score: 86 (B)
• John P. Powell Middle School – Score: 58 (F)
• Lafayette High School – Score: 74 (C)
• Lafayette Lanier Elementary School – Score: 78 (C)
• Lafayette Eastside Elementary School – Score: 66 (D)
• Valley High School – Score: 75 (C)
• W. F. Burns Middle School – Score: 77 (C)
"While the Report Card definitely has its flaws, it is one tool to highlight what we are doing well and where we need to improve," said Hodge. "It is not meant to be the only measure of a school's performance. Rather, it gives us an opportunity to encourage honest conversations about what we need to do to help our students succeed. We are all in this together. Schools, parents and our communities have a role to play in educating our children." Hodge also pointed out that current initiatives are in place to help schools improve academic achievement, such as parent development workshops conducted at Lafayette Eastside Elementary designed to teach parents how to encourage reading at home through daily interaction with their children. And, at J. P. Powell Middle School, family math, science and fitness nights are held each month, as well as after-school tutoring in math and reading each week. Similar activities are scheduled on a regular basis in schools throughout the district.
"There will always be opportunities for improvement, and our efforts to provide the best educational experience possible for our students will continue without ceasing," said Hodge. "We welcome insight, suggestions and involvement from parents and the community to insure our success."
Additional data and details about the factors used to determine grades for each school are available on the Alabama Department of Education's website at www.alsde.edu. Parents can also see how their children's school compares with others of similar demographics.
TECHNOLOGY UPGRADES SLATED FOR CHAMBERS COUNTY SCHOOLS
1 day ago
LaFAYETTE – Major upgrades in educational technology are being provided for Chambers County school students through Advancement in Technology Funds from the Alabama Department of Education.
Orders have been placed for a total of 1,470 Chromebooks, along with 57 charging carts, that will allow every student in the district direct access. In addition, computers are being replaced for all teachers, counselors, principals, secretaries, and Central Office staff.
"We are currently doing a wifi assessment and will be adding additional access points where warranted," said Michael Sanders, Director of Technology. "We have done two projects over the past couple of years to update our wifi environment, but this should bring us up to maximum performance."
Sanders said all the new equipment should be installed by the first of the year.
MOTORISTS URGED TO WATCH FOR SCHOOL BUSES
17 days ago
LaFAYETTE – On Thursday, August 8, a total of 46 Chambers County School buses will begin traveling more than 2,000 miles of county roads, transporting approximately 3,600 students in K-12 to various schools. Therefore, regardless of a person's regular morning and afternoon driving routes, chances are they will encounter one or more of these vehicles every weekday.
"At the beginning of each school year, it usually takes at least a week for traffic to adjust to the presence of school buses," said Mike Frazier, outgoing Transportation Director for the Chambers County School District. "We suggest that people who plan to be on the roads during the same time buses are running to leave home earlier than usual to allow for minor delays while children are boarding and exiting."
"It is also important to remember that state law requires traffic in both directions to come to a complete stop anytime a school bus activates its red flashing lights," said Frazier. "The only exception involves a divided highway that contains a median or some other structure separating opposite lanes."
Parents of children who have never ridden a school bus before or those who did not use the form of transportation during the previous school year need to call their child's school and make arrangements for pickup.
"Almost all of our drivers are returning from last year, so we have an experienced group of excellent people wo do a great job," Frazier added. "If a child mistakenly gets on the wrong bus, the driver will still get them safely home regardless of where they live."
Frazier will officially retire over the next couple of months after serving as Transportation Director for the past 16 years. Former Huguley Elementary School principal Benji Mitchum will succeed Frazier in that position.
CCSD WELCOMES NEW EMPLOYEES
16 days ago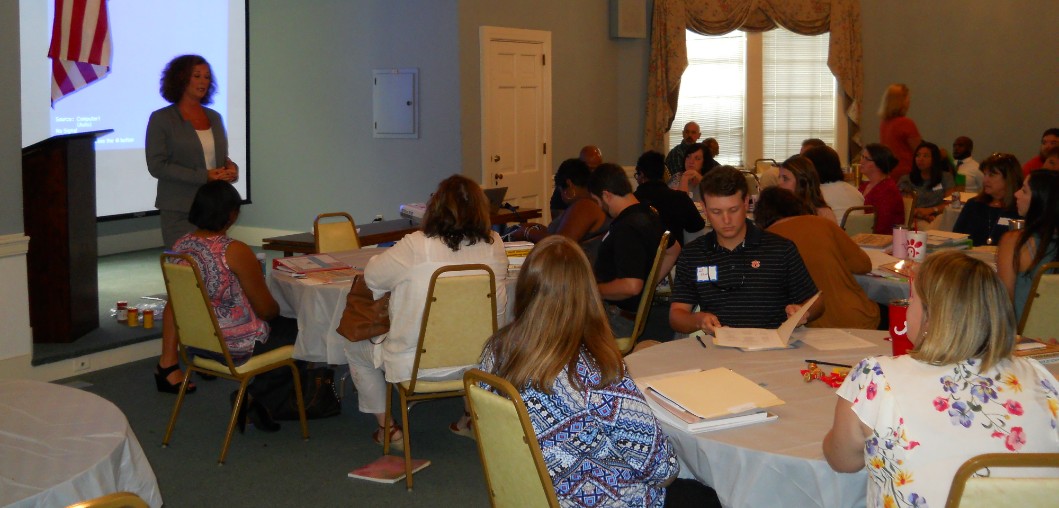 VALLEY – The Chambers County School District will start another school year with 26 new certified employees, including teachers, coaches, and specialists. They all attended a mandatory orientation session recently at the Cotton Duck in Valley.
"All of our schools will have at least one new face," said Superintendent Dr. Kelli Hodge. "We have a mixture of veteran teachers and first-time hires, and some of them are natives of Chambers County."
During Wednesday's seven-hour orientation, the group received information about all aspects of the school district, including child nutrition, maintenance, technology, public relations, special education, federal programs, transportation and safety.
"The goal is to get everyone started off on the same page," said Dr. Hodge. "In addition to providing them insight on the total scope of our district, it's my job as Superintendent to explain what we expect of them in terms of conduct, professionalism, and punctuality. We have to hold our employees to a higher set of standards because of their responsibility with children."
Valley High School will have the largest number of new certified staff, followed by W. F. Burns Middle School. There are still a few slots yet to be filled, but Dr. Hodge expressed confidence that all positions will be covered before the start of school on August 8.
"We're always excited about the beginning of a new school year," Hodge added. "We welcome our new employees and those who are returning. We also welcome our new and returning students, and wish everyone a successful year."
Dr. Hodge is shown in the above photo speaking to new certified employees during their orientation.
NEW SAVINGS PROGRAM FOR VALLEY HIGH STUDENTS
17 days ago
VALLEY – Chattahoochee Federal Credit Union has partnered with Valley High School to create Ram Nation Savings Station, a student-run credit union located on campus that allows students to build their own savings accounts. This exciting opportunity will teach students the skills to become better managers of their own money through the experience of writing deposit slips, balancing their account, learning about compound interest and other responsibilities associated with a savings account.
Students, along with a parent or legal guardian as joint owner (if the student is under 19 years of age), can open a savings account with a minimum $5 deposit. This deposit entitles students to a lifetime membership with Chattahoochee Federal Credit Union. Memberships include privileges at the CFCU Valley branch located at 519 Fob James Drive, so students can continue their participation after the school year ends.
In addition, student members may be eligible for special rewards and drawings throughout the school year.
"We will be distributing membership applications to our students when school starts back on August 8," said Valley High Principal Dr. Sherry Ashe. "We are very appreciative for this new partnership with Chattahoochee Federal Credit Union and the benefits it will provide for our students."
The Ram Nation Savings Station will be open every Thursday during seventh period, operated by selected Valley High students under the supervision of a CFCU employee. For more information, go online to www.chatt.coop.
HORNET PRIDE AT FAIRFAX ELEMENTARY
22 days ago
VALLEY – Teachers, parents, administrators and friends of Fairfax Elementary School have been busy with various projects, both inside and outside their facility, in preparation for the beginning of a new school year. The work has been spearheaded by new principal Beth Chandler, who comes to the Chambers County School District after serving many years as an administrator and principal in Carroll County, Georgia.

"I'm very excited about this new opportunity to work at a school with such a distinguished history," said Chandler. "Several of our current teachers are former students of the school, and I've found that to be case throughout the district. That tells me Chambers County is a special place when educators choose to return to the system in which they were educated themselves."
In an effort to become better acquainted with her new faculty and staff, Chandler scheduled a couple of facility improvement activities she called "Hornet Pride Days," named for the school's official mascot. The first of these was conducted two weeks ago, when volunteers began painting the lunchroom, cleaning and refurbishing individual classrooms, rejuvenating stairways and improving outdoor landscaping. One group of men even built a new stage for special events.
The second Hornet Pride Day was held Tuesday afternoon, as more volunteers arrived at the school to make new wall posters and continue projects that were previously started.
"We're using this collective effort as a launching point to create a renewed sense of school pride featuring our mascot," said Chandler. "Visitors to the school will notice a lot more display of the colors black and yellow."
Chandler was also quick to give credit to former principal Fran Groover for her leadership and commitment to excellence at Fairfax.
"You always want to follow someone who has laid a solid foundation upon which to build for the future," Chandler added. "We will continue that commitment to provide the best educational opportunities possible for the students at Fairfax Elementary."
Beth Chandler is shown in the photo above replacing pine straw at the school's main entrance.
The first day of classes for Chambers County school students will be Thursday, August 8.
PRESS BOX AT RAM STADIUM TO BE NAMED FOR HESTON YATES
about 1 month ago
Heston Yates, shown above, was the stadium announcer at Valley High School football games for approximately 40 years. He passed away on June 22, 2019, following a lengthy illness. Later this year, the Valley High School Athletic Club will dedicate the Ram Stadium press box in his memory.
LAFAYETTE – Jason Etherton, speaking on behalf of the Valley High School Athletic Club, asked members of the Chambers County Board of Education recently for their endorsement of a proposal to name the press box at Ram Stadium in memory long-time local broadcaster Heston Yates. Not only was Yates familiar to Valley residents through his previous employment with West Point radio station WCJM, he was also the "Voice of the Rams," serving as stadium announcer for all home football games.
"I can't think of a more fitting tribute to a man who exemplified Valley football for approximately 40 years," said Chambers County School Superintendent Dr. Kelli Hodge. "We will always remember Heston fondly, and appreciate his many contributions to our athletics program at Valley High."
Board members unanimously echoed Dr. Hodge's consent and shared special memories of working with Yates over the past four decades.
Yates passed away last month following a lengthy illness.
"My only regret is that we didn't do this while Heston was still with us," said Etherton.
The Valley High School Athletic Club will purchase a bronze plaque featuring a likeness of Yates to be permanently displayed adjacent to the stadium's broadcast booth. A special dedication ceremony will be scheduled during a yet-to-be-announced home football game this fall.
FORUMS ANSWER QUESTIONS ABOUT PROPOSED SCHOOL CONSOLIDATION
4 months ago
LaFAYETTE – A second round of public forums regarding the proposed consolidation of LaFayette and Valley high schools addressed specific questions that were raised in the first round of forums last fall. During meetings held recently in both Valley and LaFayette, citizens were told of four possible locations for building a new high school, the estimated costs of construction, what the campus might look like, how it would be funded, and the time zone in which it would be operated.
Greg Ellis of HPM, the company hired by the Chambers County Board of Education to conduct research and analysis on the proposal, said a sophisticated computer program was used to identify the geographic center of the entire student population in the county school district. Based on the data, the following locations were identified as possible construction sites to keep transportation times below 30 minutes for at least 80 percent of students riding buses.
1. The Cusseta area off Interstate 85 at Exit 70.
2. Highway 50 between Valley and LaFayette.
3. Off Highway 50 in a more eastern direction toward Huguley.
4. Near the Fredonia community.
The estimated cost of constructing a new high school, which would also include a new career technical center on the same campus, is between $70 and $80 million. According to school superintendent Dr. Kelli Hodge, the project could be funded without raising local taxes.
"Our debt is currently at the lowest level it's been in many years, which gives us the ability to borrow a larger sum of money," said Hodge. "If our present state and federal funding levels remain the same, we could be eligible to finance up to $47 million."
Hodge said the remainder of the estimated construction costs could be paid for from other sources, such as increased state and federal support as well as workforce development funds, which would primarily benefit the new career technical center. In-kind services and other forms of non-financial support could be provided by city and county governments.
Ellis showed a conceptual drawing of what the new high school might look like. The two-story, red brick building would be located on at least 40 acres of land to allow for future growth. The initial campus would include a fine arts auditorium and state-of-the-art security features. Existing facilities, such as Ram Stadium in Valley, would continue to be utilized for extra-curricular activities.

"While our opinions about this project will always differ, I think we can agree that we all want what's best for our children," said Hodge. "By combining our resources and eliminating the duplication of services, we will be able to expand our curriculum and provide a broader range of academic opportunities. Furthermore, our career tech students will receive an additional 118 hours of instruction annually that are currently being lost due to travel time between their schools and the current career tech campus."
An aspect of the proposed development that generated the most discussion was the time zone in which the new facility would operate. One of the greatest challenges for the school district has always been the issue of dual time zones, with Valley area facilities on Eastern time while all other locations are operated on Central time.
"Since the majority of Chambers County is located in the Central Time Zone, we are proposing that a new consolidated high school would operate on Central time, regardless of its physical location," said Hodge. "Otherwise, we would have students in the northern portion of the county boarding buses as early as 5:30 a.m. to be in school by 7 a.m."
Hodge said an option for students living in the Eastern Time Zone might be what's known as a "zero period" that would offer elective courses an hour before the beginning of the regular school day.
If a new consolidated high school came to fruition, the existing facilities in Valley and LaFayette would be repurposed as middle schools. Another option that was studied by HPM was the retention and renovation of LaFayette and Valley high schools to meet current construction codes, which would cost an estimated $70 million. However, this option would not eliminate the duplication of services nor reduce travel time for career tech students.
There are no further public forums scheduled for open discussion of the proposed consolidation. However, Hodge said local citizens will be kept informed regarding future plans and developments.
"Public input is still a vital element of this process," said Hodge. "We gladly welcome suggestions on how we can make our future school district the best possible learning environment for students."
A presentation from the two recent forums is available for view on the school district's website at www.chambersk12.org, which includes all the information that has been collected to date.