STATE REPORT CARDS
about 1 year ago
ALABAMA STATE REPORT CARD

RELEASED FOR CHAMBERS COUNTY SCHOOLS



CHAMBERS COUNTY, AL – The Alabama Department of Education has released the Alabama State Report Card, containing a letter grade for schools and school systems across the state.
The Report Card reflects several different factors including academic achievement, academic growth, and chronic absenteeism, as well as graduation rates and college and career readiness for high schools.
The Chambers County School District as a whole received a letter grade of C, and a numerical rating of 76.
"While we are certainly not ecstatic over receiving a 'C', we are pleased that our results were in line with the state average," said Chambers County School Superintendent Dr Kelli Hodge. "In a discussion with principals, I reminded them that the Report Card grade was based on the performance of a single test. We don't give report card grades to children based on just one assignment. While 'C' is average, and most people are supposed to score average, we are not satisfied with staying average. We will use this information to help us improve, but we will not discount all of the areas in which our schools are already showing improvement."
The State of Alabama introduced the State Report Card this year in compliance with the federal Every Student Succeeds Act passed by Congress in 2015, which requires states to report on student academic achievement. The goal of the Report Card is to provide a starting point and to offer easy-to-understand and concise information showing how a school is doing.
However, most of the data used for the State Report Card score was taken from the ACT Aspire Summative Assessment that the State of Alabama used to measure the educational standing of students in grades 3 through 8 and 10 from 2012 until 2017. In June 2017, the State Board of Education voted unanimously to terminate the use of ACT Aspire as the state summative assessment, yet included its data as a major component of the Report Card formula.
Therefore, the Chambers County Board of Education has joined a growing number of school boards across the state that have adopted a resolution for a Vote of No Confidence for the report card because of the criteria established for measuring assessments, including "chronic absenteeism" that does not recognize excused absences.
"We are not opposed to a report card that uses multiple measures in an equitable way to report successes or lack thereof in achievement, growth, college and career readiness, graduation rates and student success," said Hodge. "We are opposed to a report card based on one test that has been discontinued for a number of concerns, including limited reliability and not being aligned with state standards."
"We welcome a report card that recognizes the millions of dollars in scholarship money our students receive, one which recognizes students who graduate with credentials, college acceptance or military commitments," Hodge added. "We want a report card that does not unfairly categorize students who work hard to keep up or catch up after having cancer, losing a home to fire, attend school-sponsored events or just have the bad luck of being sick several times in one year."
According to the data used to measure academic growth and achievement during the 2016-2017 school year, the State Report Card indicated the following results for individual schools in the Chambers County District:
• Bob Harding Shawmut Elementary School – Score: 74 (C)
• Fairfax Elementary School – Score: 70 (C)
• Five Points School – Score: 75 (C)
• Huguley Elementary School – Score: 86 (B)
• John P. Powell Middle School – Score: 58 (F)
• Lafayette High School – Score: 74 (C)
• Lafayette Lanier Elementary School – Score: 78 (C)
• Lafayette Eastside Elementary School – Score: 66 (D)
• Valley High School – Score: 75 (C)
• W. F. Burns Middle School – Score: 77 (C)
"While the Report Card definitely has its flaws, it is one tool to highlight what we are doing well and where we need to improve," said Hodge. "It is not meant to be the only measure of a school's performance. Rather, it gives us an opportunity to encourage honest conversations about what we need to do to help our students succeed. We are all in this together. Schools, parents and our communities have a role to play in educating our children." Hodge also pointed out that current initiatives are in place to help schools improve academic achievement, such as parent development workshops conducted at Lafayette Eastside Elementary designed to teach parents how to encourage reading at home through daily interaction with their children. And, at J. P. Powell Middle School, family math, science and fitness nights are held each month, as well as after-school tutoring in math and reading each week. Similar activities are scheduled on a regular basis in schools throughout the district.
"There will always be opportunities for improvement, and our efforts to provide the best educational experience possible for our students will continue without ceasing," said Hodge. "We welcome insight, suggestions and involvement from parents and the community to insure our success."
Additional data and details about the factors used to determine grades for each school are available on the Alabama Department of Education's website at www.alsde.edu. Parents can also see how their children's school compares with others of similar demographics.
NEXT ROUND OF FORUMS ON PROPOSED SCHOOL CONSOLIDATION
18 days ago
LaFAYETTE – The Chambers County School District has announced the dates for a second round of public forums on the proposed consolidation of Valley and LaFayette high schools. The first of these forums will be held on Wednesday, April 24, at the Valley Community Center, beginning at 6 p.m. EDT, followed by a second meeting on Thursday, April 25, at the ALFA Building in LaFayette, beginning at 6 p.m. CDT.
Last October, the school district launched a campaign to gather input on the future direction of public education in Chambers County, including the proposed consolidation of the district's two high schools. Citizens were asked to complete an online survey for expressing their views on the proposal, which was followed by the first round of public forums held in November.
According to results of the online survey, citizens who indicated their preference regarding consolidation were evenly divided, but approximately 25 percent of respondents stated a desire for additional information.
"Since then, the project management firm of HPM, hired by the Board of Education to spearhead the collection of data, has been analyzing the input we received during those initial forums," said Chambers County School Superintendent Dr. Kelli Hodge. "We are now prepared to answer the questions that were posed, including projected costs, possible location, logistics, and other collected research. We even have a conceptual drawing of what the new facility might look like."
"We want to make everything about this process as transparent as possible," Hodge added. "The children in our school district deserve the best facilities and educational opportunities we can provide them. By combining our resources, we can expand our curriculum to better prepare our graduates for the high-tech job market of the future."
The proposed new high school campus would also include a multi-purpose auditorium, athletic practice fields, and the re-location of the Chambers County Career Technical Center. The current Career Tech facility would continue to be utilized by the popular and growing agricultural programs, such as Future Farmers of America.
"Public input remains an essential aspect of this project," Hodge concluded. "We encourage all citizens, especially parents of students in our district, to attend one of the scheduled forums."
"AMAZING SHAKE" COMPETITION BEGINS IN CHAMBERS COUNTY SCHOOLS
6 days ago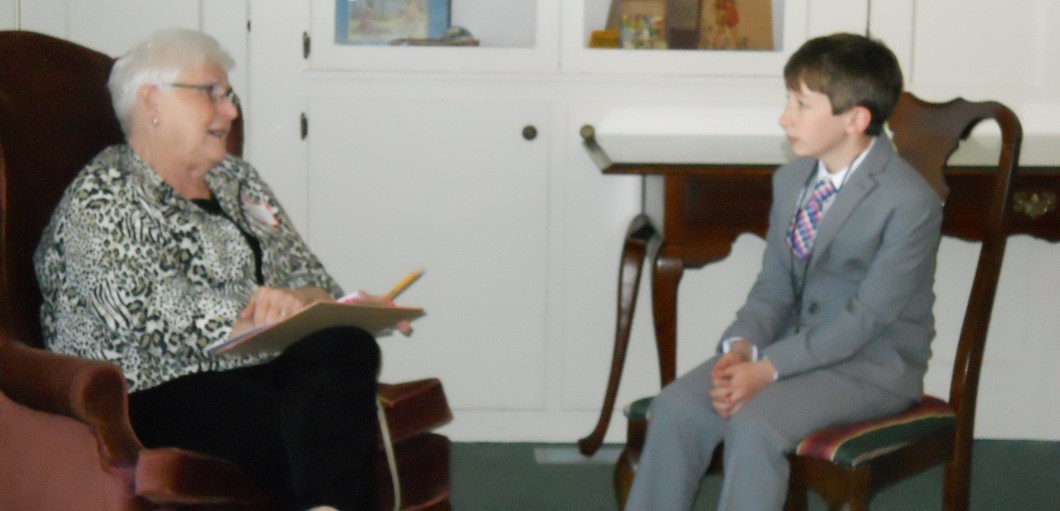 Shown above, from left, retired educator and former Chambers County School Board member Judy LaFollette interviewed Parker Williams, a fifth-grade student at Huguley Elementary School, during the first round of "The Amazing Shake" competition at the Cotton Duck in Valley.
LaFAYETTE – Fifth and sixth-grade students in the Chambers County School District are currently involved in an annual competition known as "The Amazing Shake," designed to help students hone special life skills that will enhance their chances of becoming successful citizens. Round one of the competition began Tuesday at the Cotton Duck in Valley, where 34 contestants were interviewed by current and former educators and business professionals.
"The object of the first round was for students to demonstrate the importance of making a good first impression," said Amazing Shake coordinator Lauren Dabbs, a fourth-grade teacher at Fairfax Elementary School. "They were each asked a series of random questions about their likes and dislikes, favorite subjects in school, role models, and future career goals. Judges rated them according to responsiveness, understanding of the questions, eye contact, verbal articulation, and appropriate attire."
Students received between one and four points in each category, and those scoring the highest number of points will advance to the second round next week.
"All of our contestants did an outstanding job, but only twelve will be moving on in the competition," said Dabbs. "Our judges always face a tough task deciding who impressed them most."
Winners from the first round include Lyric Sturges, Parker Williams, Carter Chambley, Eli Whorton, Sam Smith, Maggie Jo Rennie, Caroline Henry, Ka'lyn Hargett, Si'Nora Grier, Micah Strickland, Ariana Smith, and Madison Davis.
On Tuesday, April 23, the semi-finalists will demonstrate their speaking skills and how to remain calm under pressure when the competition continues at Langdale Auditorium, beginning at 10 a.m. EDT. The public is invited to attend.
The third and final round will be held on Tuesday, April 30, at the Chambers County Board of Education office in LaFayette, when finalists will be given "job interviews" by school superintendent Dr. Kelli Hodge and members of her administrative staff.
The Amazing Shake was created by the Ron Clark Academy in Atlanta, and was first introduced to Chambers County students last year.
"It initially involved only fifth graders, but we expanded it this year to also include sixth graders," said Dabbs. "We will continue adding a grade each year until we reach the eighth grade, at which point we hope to send a student representative to the national finals."
Students start preparing for the competition at the beginning of the school year by participating in frequent exercises that place emphasis on manners, discipline, respect, and professional conduct. The goal is to help students present themselves exceptionally well for opportunities today as well as those they will face in the future.
DANGERS OF UNDERAGE DRINKING SHARED WITH VALLEY HIGH SCHOOL STUDENTS
8 days ago
VALLEY – Representatives of the Alabama Alcoholic Beverage Control Board returned to Valley High School Friday with an impactful message for students: "Under Age – Under Arrest." The program featured guest speakers, photos, and videos to illustrate the dangers associated with underage drinking.
"The consumption of alcohol by Alabama residents under the age of 21 is at an all-time low, yet we still have teenagers dying due to poor choices," said Dean Argo, Public Relations Director for the ABC Board. "As a matter of fact, 80 percent of young people admit they have tried alcohol by the time they reach the eighth grade."
Argo and his team of experts travel across the state each year to share their message with school students, church groups, and other organizations. Over the past twelve months, they have presented their program to more than 100 audiences.
"We are not here to scare you. Our job is to tell you the facts and provide information that will help you make the right decisions," Argo told students. "If something we say prevents a tragedy involving just one person, it was worth us being here today."
"The main advice I can give you is choose your friends wisely," Argo added. "Avoid putting yourself in situations where the risks can rob you of your goals and dreams. Making good decisions will lessen the likelihood that you will become a future statistic."
To illustrate their message, Argo's team showed students a series of photos featuring high school students who lost their lives from poor decisions that led to drug and alcohol use. The program concluded with a video presentation showing the personal stories of two Alabama mothers who lost family members due to alcohol-related incidents.
Students were also asked to sign a pledge card stating that they "will live responsibly by abstaining from alcohol until the legal age of 21."
"No one is going to call you or come to your house. This is simply an opportunity for you to make a commitment to abide by the law and remain alcohol-free as long as you are under the legal drinking age," said Argo. "By signing this card, you are choosing to make the right decisions."
"It is our responsibility as educators to go beyond the basic curriculum and provide our students with information to help them live productive lives," added Valley High School Principal Dr. Sherry Ashe. "This was the second year the ABC Board has come to our campus, and we appreciate their time and effort on behalf of our children."
2019 SPECIAL OLYMPICS
about 1 month ago
VALLEY – The Chambers County School District recently hosted the 2019 Special Olympics at the Valley Community Center. Special education students from all local school systems also participated.
"This is the main event our students look forward to and prepare for each year," said Diane Sherriff, Special Education and Services Director for Chambers County Schools.
Various competition events included a 50-meter, 100-meter, and 200-meter run, a 50-meter and 100-meter walk, a 50-meter wheelchair walk, a 50-meter assisted walk, long jump, tennis ball throw and softball throw.
"Everyone is a winner. It's all about good sportsmanship and having a good time," said Sherriff. "We appreciate the public support for this annual event, especially those who came and cheered for our athletes."
Founded by Eunice Kennedy Shriver, Special Olympics has been changing lives and attitudes since 1968. What began as a backyard summer camp for people with intellectual disabilities is today a global movement.
FIFTH-GRADERS MASTER THE USE OF GRAPHIC SOURCES
about 1 month ago
Shown above is a group of fifth-graders at Lafayette Lanier Elementary School who recently completed a series of projects applying graphic sources to illustrate collected data. Displayed behind them is a visual-historical account of their school, which was constructed in 1935. The students are, from left, Amirrial Brooks, Rihanna Swain, Kendrick Peterson, Allie Paschal, Zoe Herston, Noah Sealey, Brendan Foster, Katelyn Deloach, Terriona Flournoy, Olivia Moncus, and teacher Julie Mitchum.
VALLEY – Most people are familiar with the Jeff Foxworthy television show "Are You Smarter Than A Fifth-Grader?" But based on the results of audio-visual projects recently completed by students at Lafayette Lanier Elementary School, you might find that question difficult to answer.

A group of ten fifth-graders applied what they learned in the classroom about graphic sources to create impressive displays of photos, videos, graphs and charts that brought history to life. One of the projects involved a complete account of the Titanic, the infamous cruise ship that struck an iceberg on its maiden voyage and sunk, despite claims by structural engineers that the vessel was "unsinkable."
Students used sources of information through the internet to research the tragedy and documented their findings in a powerpoint demonstration, complete with photos, graphs, and historical data.
A second team of students chose to research the history of their school, constructed in 1935 through proceeds donated by the man for whom the school is named. The project actually began with the origin of Langdale Mill, the first of several textile manufacturing facilities throughout the Greater Valley Area that would later become West Point Pepperell. Photos were used to illustrate their historical research, including the Cotton Duck kindergarten, Langdale Auditorium, Sears Memorial Hall, and the long-gone Langdale pool.
A third team distributed Google surveys to their fellow students to find out what they liked most about their school and things they would like to see added to the curriculum. Based on the responses provided, the team created graphs and charts to reflect the collected data. Results showed that the current favorite subject is Science, and the majority of students seem to prefer some type of Lego application in future studies.
"Prior to starting their projects, we discussed how graphic sources can be applied to help tell a story and convey information," said teacher Julie Mitchum. "After sharing basic instructions, the students were then allowed to explore various options to demonstrate the best use of graphic sources to effectively complete their assignments. I could not be more proud of what they accomplished!"
The school history research project is currently on display in the first-floor hallway of Lafayette Lanier Elementary.
CAREER TECH BUSINESS TOURNAMENT WINNERS
about 1 month ago



Shown at left are Cameron Downs, Albrikiyonce Echols, Meagan Brown and Aarron Barrett, all Business/Finance students from the Chambers County Career Technical Center, who recently won their respective areas of competition at the annual Southern Union Business Tournament.
LaFAYETTE – Ten Business/Finance students from the Chambers County Career Technical Center recently participated in the annual Southern Union Business Tournament, held on the campus of Southern Union State Community College in Valley. Four of those students received top honors in their respective areas of competition.
Aarron Barrett took First Place in Business Calculation, and finished second in General Business/Economics.
Cameron Downs was the Frist-Place winner in Business Communications, while Albrikiyonce Echols took Second Place in Accounting and Meagan Brown finished third in Business Calculations.
"This was a great result for our Chambers County team," said Career Tech Principal Ken Sealy. "Our students spend a lot of time and effort preparing for these competition events, and we congratulate them on their latest achievement."
The Business/Finance curriculum is one of ten courses of study provided by the Chambers County Career Technical Center, benefiting students from all local high schools, both public and private.
APPLICATIONS BEING ACCEPTED FOR VIRTUAL SCHOOL
about 1 month ago
LaFAYETTE – The Chambers County School District is currently accepting applications for Virtual School in the 2019-2020 school year. This online curriculum offers students in grades 9 through 12 the opportunity to earn a high school diploma with courses consistent to those provided in the traditional classroom setting.
All course work is completed and submitted via computer, requiring students to meet the following eligibility criteria:
· Have access to the internet and to a computer outside of school.
· Be proficient in reading, writing, and math.
· Maintain minimum overall GPA of 2.0 in courses taken during the current academic year.
· Maintain appropriate course progression as measured by the completion of weekly assignments, quizzes, and/or tests.
· Remain a student in good standing of the Chambers County School District.
· Adhere to the Academic Integrity Contract.
Students must meet the established attendance and academic progress criteria which will be monitored by CCSD staff. All full-time virtual students will be enrolled as a student in the high school zone in which they reside. These students will be counted in the average daily attendance, and will participate in all state testing and accountability requirements. Upon satisfying all graduation requirements, students enrolled in the virtual pathway will receive an Alabama High School Diploma.
Virtual School students are also eligible to participate in extracurricular activities at the school in which they are enrolled, according to attendance zone. They are subject to the same requirements, including Alabama High School Athletic Association rules.
"The purpose of this program is to work with both students and parents to provide an alternative educational opportunity of instruction," said Chambers County School Superintendent Dr. Kelli Hodge. "The curriculum is online, self-paced, and individualized, designed to support the nontraditional needs of fulltime or part-time Virtual School students."
Application forms for Virtual School are available through the school district's website at www.chambersk12.org, or at individual high school locations. Parents and prospective students wishing to participate are also required to attend a mandatory orientation meeting to be held at the school where the student is enrolled.
For additional information about Virtual School, contact Dr. Sharon Weldon, Director of Secondary Education, at 334-864-9343, extension 10232, or via email at weldonss@chambersk12.org.